See the world's largest T. rex
Scotty, the most massive Tyrannosaurus rex in the world, is on display at Royal Saskatchewan Museum. Discovered right here in Saskatchewan, an academic paper published in The Anatomical Record confirmed Scotty's new status as the world's largest and oldest T. rex, outsizing the Chicago Field Museum's SUE by 400 kg and more than 50 cm in length.
The CN T. rex Gallery brings Scotty to life through multiple exhibits, including the awe-inspiring recreation of the roar of a T. rex. Examine actual fossil specimens of flora and fauna found in Scotty's quarry and discover the habitat and environment in which Scotty lived. Find out why T. rex had small arms, and explore Scotty's many injuries. For Scotty, living to be over 28 years was not without its challenges.

Discovering Scotty
Originally discovered by an RSM research team in Saskatchewan's Frenchman River Valley in 1991, Scotty's fossilized remains were painstakingly removed – almost completely by hand – over two decades from the rock in which they were embedded. That work was finished in 2014, thanks to employees, students and volunteers, and revealed a T. rex skeleton that was 65% complete.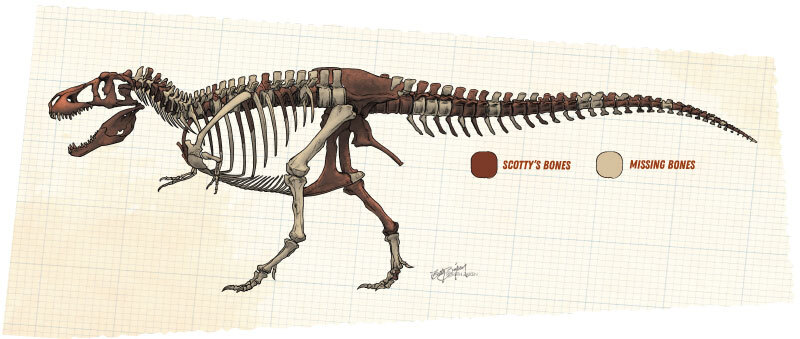 ---
Funded by the Ministry of Central Services, Heritage Canada's Cultural Spaces Fund and CN.