Way back in 1990, I was in the University of Calgary bookstore one afternoon buying books for my winter semester courses. I bumped into another student, who was working on her Master's thesis in the Department of Archaeology. We started talking and I found out that her research was a review of the ethnobotany of the Blackfoot people on the Peigan Reserve in southern Alberta. Work had already been undertaken by previous researchers but she was revisiting the topic with a number of Elders. It was a new topic for me and I was fascinated as I listened to her talking about her work with the Elders. I was still an undergrad in archaeology at that time and had no idea that humanity's use of plants was an area of study or that it was possible to do such research for a Master's project in archaeology.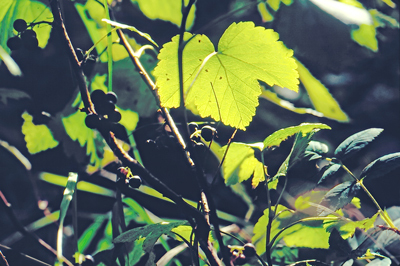 Black currants.
I mentioned that my mother, from the Bigstone Cree Nation in northern Alberta, had told me stories about plant use that she remembered from her childhood. For example, my mother fell into a campfire at the age of four and was badly burned on the left side of her neck, under her chin and down to the top of her chest. They were in the bush and her grandmother immediately set out doctoring her with a poultice she made from plants that she gathered from the forest around them. As an adult, my mother had a large patch of freckled skin that I could trace an outline around, the only remnant scarring from her bad childhood burn. There were other stories too, about picking berries and other edible plants and about the things her father made from resources he found in the boreal forest country all around the reserve. The Masters student became excited about what I told her and suggested that I do some research to see if it could be possible to do an ethnobotanical study myself on Cree plant use.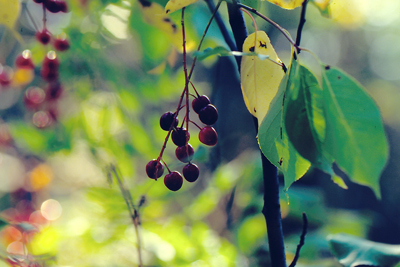 Choke cherries.
I was hooked and quickly found out that there were no ethnobotanical studies from a northern Cree, First Nation community in Alberta. There were a couple of small-scale studies that had been done on Plains Cree plant use and plant use by the Nakoda people from Morley. The Blackfoot use of plants was the most studied First Nation use of plants in the province at that time. When I finished my Undergrad degree I submitted a proposal for an ethnobotanical research project to the Master's program in the Department of Archaeology at the University of Calgary. It was accepted. The perspective was archaeological. When people use plants for any purpose there are waste parts that do not get used, or there are special parts that may be cached for later use. How did people dispose of the unwanted bits and how did they cache the useful bits? Where did they go to collect plants? There are many questions that have implications for what might be found in the archaeological record. This was one of the ideas to explore with the study. Such studies often yield what I call 'shopping lists' of plants. I wanted to explore other areas that such information could be applied to. In the end, my 'shopping list' contained sixty-three plants, many with multiple uses.
At the time of my study (1992, 1993) many of the people with traditional knowledge were quite old. I collected all the information I could, but much had been lost already. What was very interesting was how much the Elders knew and how many of them gave me the same information, independently of one another. I was careful to tell them that I did not want any quantities or recipes for any plants, just the name of the plant, how it was collected and which part, how it was used in a general description, and how it was disposed of. There was a lot of sensitivity about the information I was seeking. More on this later.